Popular belief has it said that they are supposed to be weekend toys or only track weapons with engines in the back visible via an almost pope-like glass cabin? But today, all of that may change for the first time in the form of the brand spanking new Ferrari Roma.
Courtesy of Ferrari Mumbai, we have one of the best-specced Roma's in the country finished in a bold shade of Verde British, with yellow brake calipers and Scuderia shields completing the exterior bit of things. It also sits on a set of stunning 5 spoke silver alloy wheels, with carbon fiber hubcaps hinting at how seriously high specced this Roma truly is.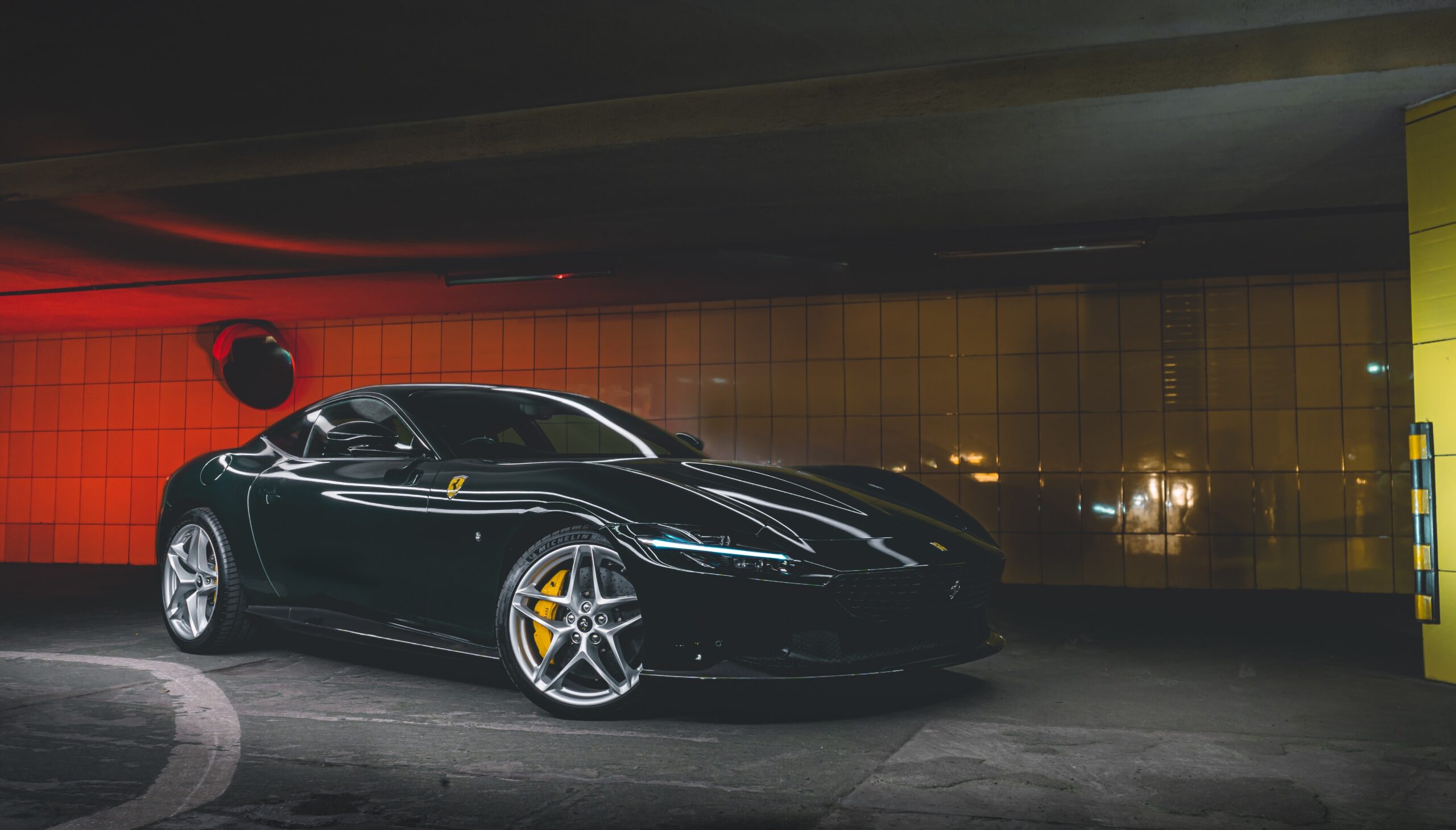 The front of the Roma is quite a takeoff from Ferrari's of the yesteryears with its bold cheese grater grille finished in the body color splitting the slim LED headlights following a strong center creased bonnet which flows into the steeply raked windscreen. The side profile is no short of perfection with a low roofline, which compliments the wider rear wheel arches and neatly connects into the wafer-thin slot-like quad tail lamp setup, something very different from the usual circular set.
At this point you may wonder will there be a Roma Spider and the answer is most probably no. Thanks to the also freshly launched Portofino M which shares a fair bit of its chassis and other crucial parts with the Roma with an almost identical wheelbase. The Roma is probably all too beautiful as a coupe to change it into a spider!
But coming back to the everyday part of this fezza, and with the short time that we had with it, we can confirm with 100% confidence that it can more than keep you comfortable for the daily route and the highway trips thanks to its fantastic adaptable driving modes available on the famed mannentino wheel allowing you to explore the Roma as your mood summons.
The supple suspension also allows for you to cruise longer distances at ease and not have to worry about slowing down for smaller bumps or potholes, however, larger ones will still require your attention. With a ground clearance of 113mm, it beats probably the best daily driving supercar in the form of the 911 which can only manage 109mm of clearance.
Move onto the interior and you will practically not recognize anything in terms of past Ferrari design cues with them going 360 degrees with this one. It hosts a floating tablet-like screen located in the central tunnel which splits the driver and passenger cabins. The tunnel also hosts the gear selector controls, a design that is intended to remind you of the gated manual era with its metal-finished selectors. Gone are the chunky tachometer and side gauges as well and in come a large display digitizing all the info previous cars offered. What this allows for is additional safety with the driver having to not take his eyes off the road and purely focus by looking straight ahead for any sort of media or route guidance.
The above tech is fun, but the colors on this one are cool and rung up to level 100! Finished in Blu Sterling leather, with Giallo piping and carbon fiber options everywhere, this is one to stun thanks to being applied on the Daytona Seats which bring in some tradizione character into the cabin. What's also cool is the option of the passenger display allowing them to look at the speeds they are going, post it on Instagram and then probably faint.
So the Roma looks good, rides well, and feels nice to sit in as well. But what about how it drives?
Don't be bothered by the fact that it shares its turbocharged 3.9-liter V-8 that makes 612 horsepower and 561 lb-ft of torque with the Portofino because it feels like a whole new engine with an additional Race Mode as well indicating that Ferrari wants you to take this car on the track to slip, slide and set times! The 8-speed dual-clutch gearbox is a little eager to upshift but slam your foot to the floor and it will not disappoint with quick shifts while the kmph keeps climbing rapidly. Overall it is a car that you can enjoy during the week to go to the office, on the weekend when you want to go on a date, long drive, for a fun run with the kids, or on the occasional track day.
Wait a minute. Did I just say, kids? In a Ferrari? Surely that must be sounding illegal but in the case of the Roma and Portofino, it doesn't thanks to the smaller 2 seats located in the back allowing everyone to have a piece of the Ferrari fun pie! Even if you don't have children, the space serves very well for extra luggage and short friends who won't complain.
Jokes apart, the Roma has what you can call a decently sized trunk for a Ferrari as well allowing you to go vegetable shopping and store your helmet in there separately or together!
Overall it is more than just a car for me. It's almost like a very expensive piece of art that will probably go down in value over the years unlike a Picasso but every time you cross it, start it, rev it, go for a cruise, go wild on track or just play with its never-ending list of gizmos, you will have a smile wider than you can imagine on your face and that is our guarantee on the Roma.
Just get one, will you?
End credits
Written by: Aakash Karalo
Shot by: Nirmeet Patil