Della 2.0- by Aakash Karlo
They say, Good food can take you interesting places, we at Throttle 97 have our own twist on this statement, with us adding cars to it along with good roads and people! One of our many memorable drives was that to Della Resorts nested in the hills of Lonavla. Lonavla is a favourite of several types of people owing to it's scenic views, great weather and good food! However for an enthusiast, the twists and straight sections of the Mumbai Pune Expressway are enough to get you out of bed as early as 5:00 am in the morning and that is precisely what Throttle 97 had arranged for it' members and crew on a breezy Sunday morning with a huge number of cars pulling through the quiet city of Mumbai towards Lonavla.
BKC was eerily quiet at 4:55 AM however all of that was about to change in precisely 5 minutes with cars of all types pouring in from various parts of Mumbai.
Smiles beamed on all faces for everyone knew the amount of fun they were in for later that day with Lonavla offering one of the most fun set of roads as well as Della Resorts one of the best Breakfasts in the area!
After a small briefing with regards to the route, members headed towards their machines all geared up and with that, the cars roared to life with BKC edible levels going through the roof.
An overview of one of the best sounding V12s in modern history hand built by Aston Martin in the form of the DB11 being looked on by nothing less of an icon in the form of a 991.2 911 GT3RS, a road legal race car!
After unfortunately encountering a brief bit of traffic while exiting Mumbai the convoy finally hits the expressway, with all the members pushing their machines to the brink allowing them to breathe and eventually cruise at high speeds. Above we have a photo of two very different but very similar cars.
Now why you may question that, the C63s AMG and 911 Turbo S are both renowned to be extremely practical cars in their own leagues with some being daily driven as well as them being the best in their individual segments.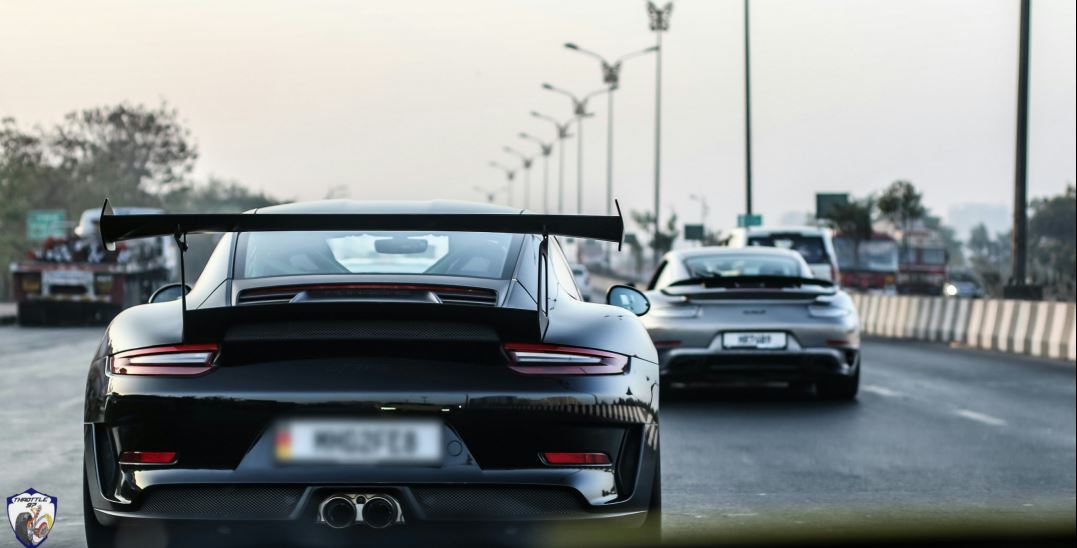 It was nothing short of a Porsche overload this drive with multiple variants of the 911 and Cayman / Boxster being present screaming with their Flat 6 Engines, some turbocharged and some Naturally Aspirated. Above we have a picture of one of Mumbai's 911 GT3RS with a 911 Turbo S for company!
Touchdown Lonavla, while the members all started to turn off the Expressway and started the journey on the twisties towards Della Resorts. Della did not feel very different from BKC with it being extremely quiet prior to the entry of Throttle 97, armed with Flat 6's, V8's, and the glorious V12!
While the drivers and passengers headed to fill themselves up after the drive, the cars relaxed and cooled down after the exhilarating drive and charged up for the drive back to Mumbai!
The DB11 owned by Throttle 97 Founder Damandeip Chaddha cooling down and looking soo good while at it!
An Extremely popular Porsche Boxster GTS known as panda in the striking shade of Silver and displaying it's patriotism everywhere it goes!
One of India's rarest Ferraris to have been painted in a shade apart from Rosso Corsa, owner Bijal Madhani proves that you don't need a Ferrari in Rosso Corsa for it to look good! This 488 GTB is armed with a long list of options and adorned with the signature decal of none other than Enzo Ferrari while having a Novitec Wing and Full Exhaust System helping it's V8 to sing louder!
An Everyday sportcar of sorts, this 981 Porsche Cayman proves speed, power, handling and practicality can go hand in hand!
A Candy Store for any Porsche enthusiast!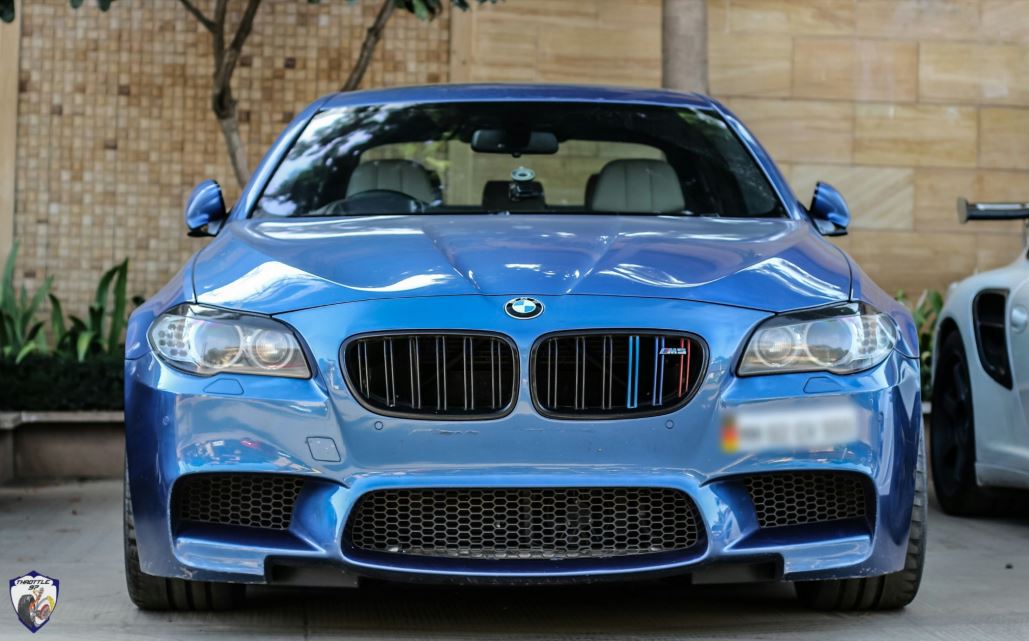 Who would've guessed that this normal looking 5 series actually hosts a V8 underneath that hood and is faster than most supercars when put to the test! Ladies and Gents that's the F10 BMW M5 for you.
After the sumptuous breakfast, both the drivers and cars were ready to head back to Mumbai.
Lonavla, the escape from the hustle of the city of Mumbai, we hope to visit you again!
– Throttle 97 ( Aakash Kalro)