Backstory: The Skoda Rapid was welcomed by the Indians in 2011 as a compact, safe and fairly fun sedan for the family to buy and own. It was a takeoff from the existing sedans on sale like the Honda City, Fiat Linea and Ford Fiesta which were outdated even back then. In came a car that would change the future of Skoda in India with sales figures shooting high and people now considering it an attainable car.
Skoda sold the Rapid from 2011 all the way till 2021 with two facelifts, one minor and major with some special editions also being sold along the timeline. While the original one missed out on the nicer engine and gearbox combos, the new car won't.
What's new: The Slavia is what is scheduled to replace the Rapid nametag and is rumoured to be one of the meanest driving machines out there with its dynamics at a max level along with the 1.0 and 1.5 TSI motors on offer being fun ones as well.
Another key differentiating factor would be the size, even in these renders or spy shots the Slavia (4,480mm) looks like it has grown from the original platform of the Rapid (4,413mm) and will now not be one to compromise on the backseat which is a key selling point for its segment with a looong wheelbase of 2651mm.
Like the previous generation, the Slavia will share a majority of its parts with its sister, the VW Virtus however unlike the previous generation it will have a very strong identity of its own wearing the traditional Skoda slatted grill, ultra-crisp LED headlights and some strong flowing crease lines setting it apart from the unseen as yet VW.
Features: The Slavia will also change the perception of the Rapid being a low feature vehicle thanks to its older layout. The Slavia however will cover all the basics like android auto, apple carplay, wireless charging, Skoda connected car tech, feather touch A/C controls, leatherette upholstery, ventilated seats, a digital instrument cluster, a high-spec audio system with six speakers and a subwoofer, auto headlamps and auto wipers.
In addition to this, higher trims can also possibly be equipped with remote engine start, remote AC operation and a panoramic sunroof however these goodies are not expected to be part of the launch package.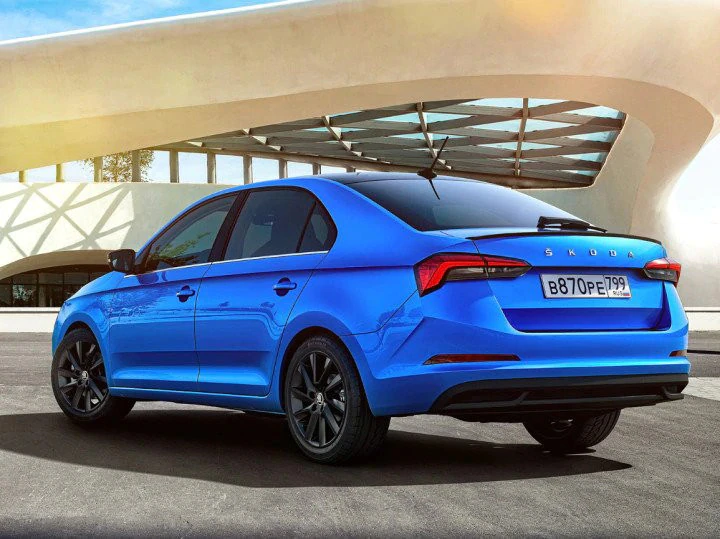 Engines and Gearboxes: Goodbye diesel torque and hello petrol power! The Slavia will debut with not one, but two TSI options in 1.0 and 1.5L with the former being more of an economy or daily driver-based engine while the latter is an all-out enthusiast's pick.
The 1.0 TSI is a 3-Cyl unit that puts out 115 hp and will be mated to either a 6-speed manual or 6-speed torque converter automatic gearbox. The 1.5 TSI is a 4-Cyl unit that puts out a mouth-watering 150 hp and 250 nm of torque and will deliver this power via a lightning-quick 7-Speed DSG gearbox.
When can you buy one? Well, you will have to wait till next year to get your hands on the Slavia, at least till the first quarter of 2022.
Is it worth waiting for? YES, YES and YES! With nicer engines, sharper looks, loads of features and a larger cabin and exterior the Slavia is going to hopefully shine bright in a segment that has been flying low key since the taking over of SUVs. Now, I will only hope that Skoda prices this right, above the Rapid but not high enough to allow an undercut on the competition.
All rights reserved with respective image owners.
Written by Aakash Kalro