Independences Day.
While the whole of Mumbai was relaxing in their homes, history was about to be made for India's Largest
Supercar group was all set for it's first drive.
Throttle 97 a name which was put into motion on this date along with the largest convoy of supercars,
Mumbai had ever witnessed and that too set to continue the display for the whole of Mumbai.
Excited Owners and Passengers fired up their respective engines by 6:00 am and headed towards a meeting
point which would serve as a gathering spot for the coming years in the heart of BKC.
From BKC, the convoy headed towards the equally famous Bandra Worli Sea Link for the next leg of the
drive towards Town situated in the South of Mumbai.
Roaring away in hundreds of horsepower, the cars stormed accross the sea link witnessing the beauty of dawn
and the sun rising to welcome them.
A brief drive towards the iconic Horniman Circle primarily comprised of bystanders looking on and being
shocked as their mornings were about to get a lot more colourful and noisy.
Signals now had traffic but only comprising of Supercars, Sportscars and Super Saloons including the newly
launched Maserati Quattroporte roaring with it's V8.
All Cars arrived at Horniman Circle with them being lined up and parked for the public to gorge their eyes
on while the owners fueled themselves up with a cup of coffee from Starbucks.
Seeing the overwhelming response from Car Spotters, By Standers and Car Enthusiasts it was a maze for the
massive convoy to exit the Horniman Circle Parking Lot with many exotics being seen by the public for the
first time.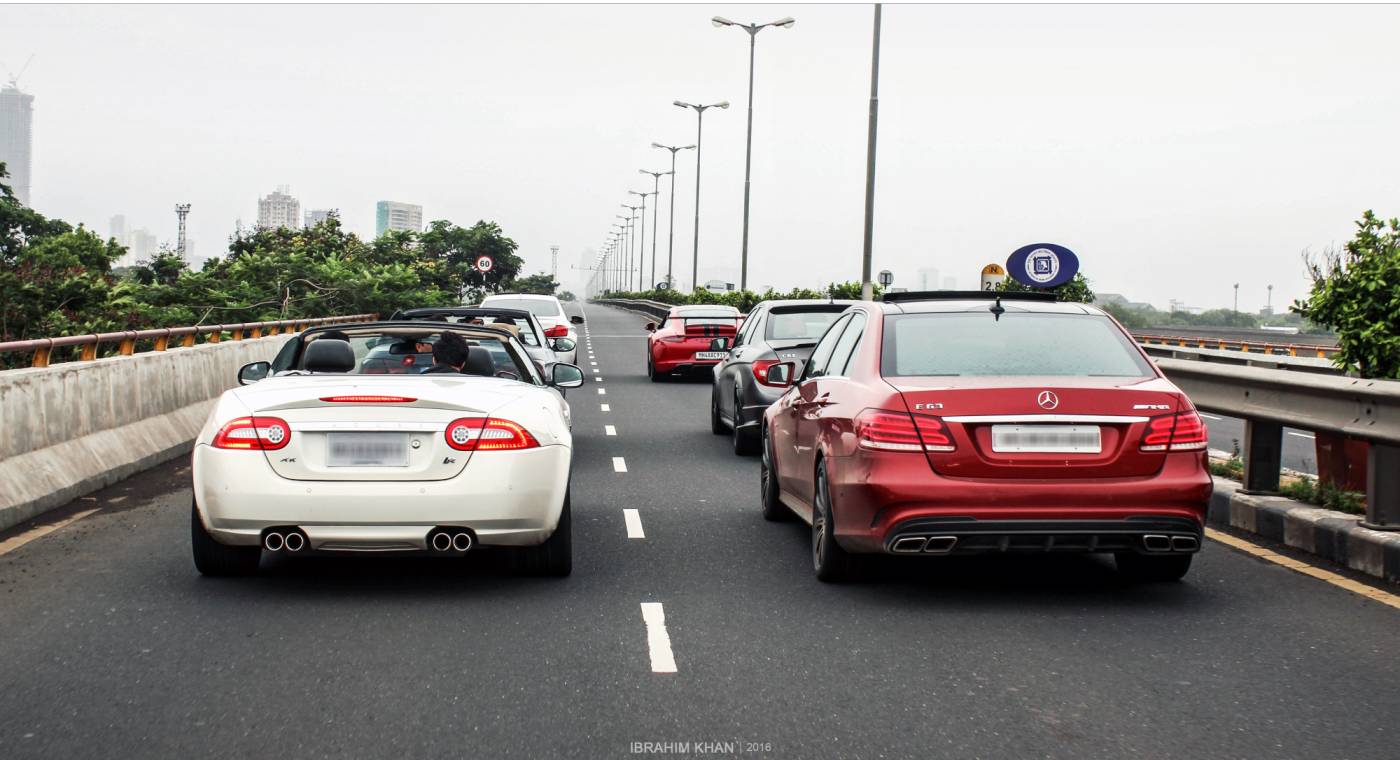 However like all good shows this one also had to go ahead towards the final destination which was the
Ajmera I Land situated in Wadala.
Exit Town, all the cars climbed the freeway one by one making the usually dull freeway atruly colourful spot
with cars from America, Germany, Italy and Japan all roaring to their max.
Off the freeway and towards Ajmera I Land, the cars pulled at their level best towards the final stretch with
owners being equally excited as to the event planned by our CEO Damandeip Chaddha included drifting,
something fairly uncommon to the car community of Mumbai as of then.
Porsche, 3 Very Different Variants of their model lineup, each equally iconic.
(L to R) 911 Turbo S, 911 Carrera 4S, Boxster GTS
2016 our journey started towards being India's Largest Supercar Group.
Today Throttle 97 is a name which resounds with people and is known by one and all with a massive social
presence we occupy today.
However we would not have been anywhere if this first drive would not have been a success.
To Many More Successful Drives and Milestones Ahead!
– The Throttle 97 Team