Throttle 97 Pune Drive 2020
Throttle 97 Pune Drive 2020- Fun Ride
8th of March, 2020 was a lazy sunday to all apart from the members of the Throttle 97 family.
A few text messages and calls later we had a group of twenty eight cars ready and eager to make a run to the Oxford Gold Resort in Pune.
The Route primarily comprised of a drive from BKC, Mumbai to Oxford Golf Resort, Pune and back using the ever favourite Mumbai Pune Expressway.
As the clock striked 5 am, a very quiet and dead BKC started to wake up to the sounds of the raging beasts hailing from Maranello, Sant'Agata Bolognese, Stuttgart, Bavaria, Britain and the USA.
With cars and owners equally excited to do an inter city run, the members started to gather in BKC at an
undisclosed location for a quick briefing and drinking session (for the cars).
With the briefing complete all the members were asked to return to their cars and form a convoy which
would they would be a part of till Pune.
5:30 AM, and the whole of BKC had come to life with cars ranging from Sport Saloons to
Super Track Focused Cars as part of the 28 car convoy.
As the time passed by the cars pushed off from the location, each one more unique than the last.
With the ultra rare Ferrari 488 Pista leading the convoy, all the owners started their journey in high spirits
behind the Italian Prancing Horse.
The first planned pitstop was one on the Mumbai Pune Expressway for a quick drink of 99 Octane for the
machines while the owners satisfied themselves with a drink from Starbucks.
With Dawn falling upon the drive, the convoy started to leave the fuelling stop and now complete the rest of the run to Pune City.
With the Ferrair 488 Pista now taking a break and moving down the convoy, the underdogs or the sleeper cars woke up and took this opportunity to show how stealth and speed go hand in hand.
The Latest Member of the group was seen in his Glistening White BMW Z4 enjoying the drop top experience accompanied with the soundtrack of V8's.
The Last Run of this half of the leg was completed quickly with a halt at The Oxford Golf Resort, Pune.
With all the cars topped up with fuel, it was now the turn of the owners to feast on the ever scrumptious breakfast spread arranged.
10:00 am, with appetites filled, all owners started to head towards their respected cars and now make a nonstop run towards Mumbai.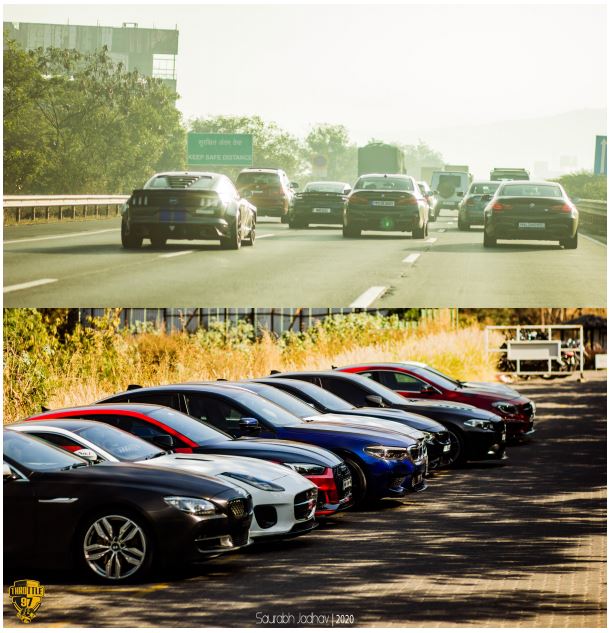 There were a few visiting members from Pune as well who joined in for the Breakfast Session with a highly modified Ford Mustang grabbing eyeballs.
Touchdown Mumbai.
With members and cars equally happy we only strive to grow bigger this year.
Throttle 97.
– Aakash Kalro